Information Architecture to Drupal Architecture
Platinum and gold sponsors

grugnog - Sun, 02/10/2008 - 7:27pm
Track:
design and user experience
Images: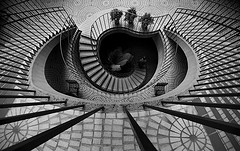 Session Description:
Overview
Information Architecture (also known as 'IA') is a process where the business requirements and site audience needs are analyzed, and sitemaps, wireframes and other documents are created that explain how these can be met. This session focuses on how you get from this IA to a more technical plan for how this site can be realized using Drupal in an efficient, flexible and maintainable way. Justcauseit.com and other sites will be used as a case study along the way.
Audience
This session is targeted at information architects, site builders (both technical and non-technical) as well as developers and themers who are architecting and planning Drupal sites.
Agenda
What is IA - look at some example IA documents.
What tools are available in Drupal to meet those requirements (e.g. taxonomy, cck, views, panels, organic groups, custom code and theming).
What kinds of things are easy to solve - and how to choose when you have many possible solutions
How to spot harder things and custom code - prioritization
How to plan - listing, notating and prototyping
How to plan within the project context - agile vs. waterfall, efficiency and requirements
Smoothing the process - why IA people need to learn Drupal, and Drupal geeks need to learn IA!
Goals
By the end of this session, participants should have a clear understanding of how to get from an IA to a more technical plan for realizing the site, and what challenges they should expect along the way.
Resources
It would be good if people had some understanding of what IA is, and ideally some basic knowledge of the Drupal tools available for site building, because we won't have time to visit them all in detail, and we want to stay fairly high level.
Session start time:
03/06/2008 - 9:00am
-
03/06/2008 - 10:30am