Drupalcon Boston Sponsorships
Platinum and gold sponsors
You can purchase a sponsorship here via the Drupal association website.
The Drupal association is pleased to announce that we are providing sponsorship packages for businesses and organizations that wish to support the Drupalcon Boston conference. The demand for attendance to DrupalCon has increased significantly over the past few years. In order to accommodate the 700+ expected attendees, the largest in DrupalCon history, we have rented a professional sized conference center. The costs of providing this facility in addition to organization costs have increased nearly ten fold compared to past DrupalCons. In an effort to keep the registration fees low for attendees we are offering the sponsorship packages outlined below.
We need to raise $125,000 in sponsorships in order to support DrupalCon. You can also review the Drupalcon budget.
DrupalCon is a non-profit conference put on by the Drupal association. The association would like to thank the Boston organizing committee for volunteering hundreds hours over the past six months to help scout, propose and execute DrupalCon. Without these volunteers DrupalCon would not have existed. Thank You!
Program Guide
You can download a sample program guide with advertising examples here. You can get detailed job listing sponsorship specifications.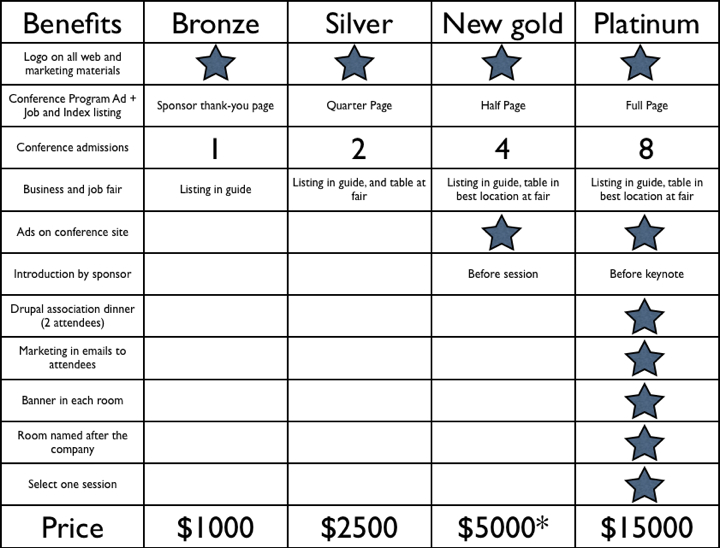 * New Gold has lower price, same benefits.
* The new supporter level sponsorship is listed on the website only.
Showcase and case study contest sponsor
Your donated products, services, books, or hosting will be featured as prizes for the Drupalcon showcase contest.