Selling with Drupal: Ubercart
Platinum and gold sponsors

rszrama - Sun, 02/10/2008 - 5:03pm
Proceedings Have Been Posted:
Proceedings Have Been Posted
Images: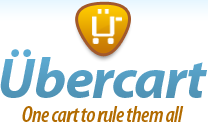 Session Description:
SESSION OVERVIEW
Ubercart is an e-commerce suite for Drupal that has been in development since late 2006, and it is now being put to good use by many mom and pop shops, web development outfits, and corporations including Warner Brothers Records and AOL. As the march toward a 1.0 release draws to a close, we project that Ubercart will continue to draw new users from both the Drupal community and general e-commerce corners of the web. In an attempt to bring anyone up to speed who's missed out on Ubercart thus far, we are planning to repeat our session from Barcelona on Introducing Ubercart.
This session is for Drupallers of all shapes and sizes. There will be a brief outline of the history and future of the project followed by a general description of what Ubercart is and how it is and can be put to use. We will cover the core features of the project and how it integrates with Drupal's core and contributed systems. We'll also present the Livetest for you to take a gander at what Ubercart looks like in action. Finally, we'll familiarize you with the various aspects of our community site where you can find many great resources including documentation (for users and developers), a killer support forum, Ubercart specific Drupal modules, and a live sites directory.
I also like fielding questions. Developer questions often lead to code improvements with many security fixes and essential features (file downloads, role promotions, etc.) being added to core as a direct result of user and developer questions from the last Drupalcon.
If we can't get to yours in the session, grab me later or hit up one of the Ubercart BoF sessions!
TRACK
Site Building
AGENDA
* Ubercart's history and future
* Feature overview/explanation
* Integration with core and contributed Drupal APIs/systems (think Users, Forms, CCK, Views, Userpoints, etc.)
* Livetest demonstration and live site showcase
* Introduction to community site and resources
GOALS
It is our goal to introduce as many people as possible to as much of Ubercart as possible in the time we have. Ubercart is raising Drupal's reputation as an e-commerce platform, and we don't want anyone of our friends from the world wide Drupal community to miss out on the fun!
RESOURCES
Ubercart Project and Community Site - http://www.ubercart.org
Session start time:
03/05/2008 - 3:30pm
-
03/05/2008 - 4:30pm